Rosemary Design Moves Forward
Planning for a new Rosemary Pool continues to move forward. Architectural firm, BH+A, pre-sented design options to the Park & Recreation (P&R) Commission, which featured numerous two-pool options. For the last several months, CCN advocated for a two pool option and urged the Town to think outside the box and choose a design concept which included the capacity for future enclosure of one of the pools for year round swimming. However, P&R recommended that the team move forward with Option 1, which does not allow for future enclosure, citing the cost to prepare site and building necessary for a future indoor pool. In addition, the topography and parking would not allow for a pool that could host regional swim meets. On October 19th, the Permanent Public Building Commission (PPBC) unanimously approved P&R's recommendation for Option 1.

Option 1: Design Concept presented by BH+A
While it is disappointing that the Town will not have an indoor pool option at the updated Rose-mary complex, CCN is committed to encouraging year-round programming and opportunities at the site, as well as exploring and advocating for an indoor pool option in Needham.
There is a lot to celebrate about this proposed new design! Two pools instead of one - this allows for seasonal recreational and competitive swimming, as well as, water and filtration efficiency. Also, if one pool needs to close, the other could be available. Additionally, the proposed pools will be built out of the lake, no longer using lake water to fill them, ensuring clean and healthy swimming at Rosemary. At CCN's urging, the Town appointed a non-binding advisory commit-tee, on which CCN has a seat and is committed to making the new Rosemary the best it can be, while keeping in mind our mission to create a Community Center with affordable, year-round recreation options for all Needham residents.
Thank you for all of your support! Please continue to work with CCN to bring together individ-uals and organizations to promote the health and well-being of the entire Needham community through recreational, social, educational, cultural and community activities.
---
A Bold New Vision for Rosemary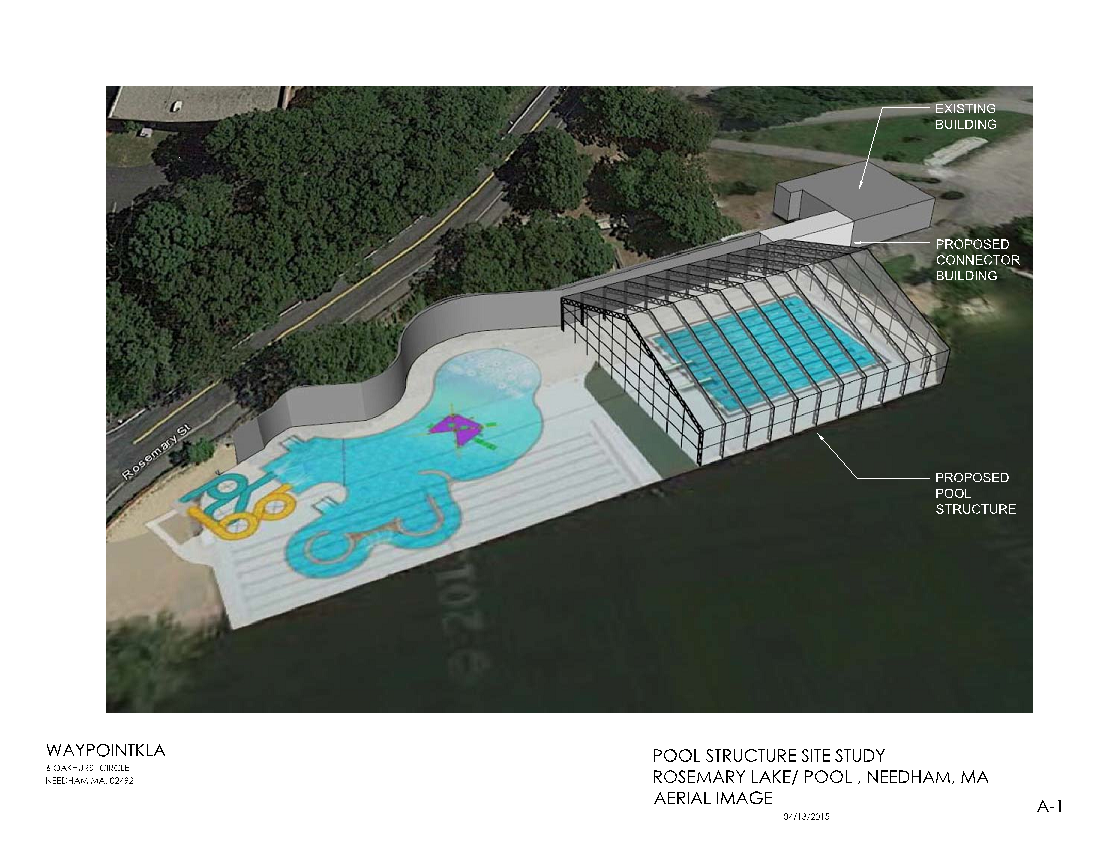 Now that the Town of Needham has allocated and approved funds for the redesign of Rosemary Pool (which must close in 2016) we would like to share our vision of what Rosemary could be - both in the immediate future and for generations to come. With funds privately raised by the Community Center of Needham (CCN), we hired aquatic expert, Counsilman-Hunsaker (CH), to work with us to create a vision for a year-round pool and community center. They developed a sensational concept!
Counsilman-Hunsaker and CCN took the challenging terrain of Rosemary Lake and created a vision of a multi-purpose, year-round pool and community space rather than just re-creating a very large, seasonal, rectangular pool. The rendering above, provided by WaypointKLA, shows a seasonal recreational pool with many creative play areas and an "Open Aire" structure over an 8-lane competitive pool that can be used all year long. The "Open Aire" feature enables 50% of the ceiling and wall panels to be opened at the flick of a switch, enabling outdoor swimming in summer and indoor swimming on colder days. The glass walls also allow pool users to enjoy the scenic Rosemary property all year long. The vision above is not a final design concept, but rather a jumping off point for conversations about the design, in which we hope all residents will become participants. Not all of the vision may be realized at the outset, but we feel it is crucial that the design team take into account the future use and expansion of the property, considering infrastructures that may be required to allow for phasing of the project over time.
The Park and Recreation Commission is forming a Rosemary Pool Advisory Committee to inform the future Rosemary Pool and Lake facility design. Now is the time to get involved and support a wise vision for this project. Without a vision, it is difficult to move beyond merely a replacement pool. Your voice is important! Click here to stay informed and be a part of the solution: (CLICK to SUPPORT).
---
CCN Sponsored Study: The Most Efficient Utilization of the Rosemary Site
Rosemary Redesign Approved by Town Meeting
In May 2015, Town Meeting approved design funds, with 78% support, to begin the process of renovating or reconstructing Rosemary Pool and Lake site.
This initial $450,000 in design money, which is funded through the Community Preservation Act, is the first step in a 2-part design process. The second part of the design request is planned for the May 2016 Town Meeting with an expectation that construction funds will be sought in May 2017. The building process could then take 12 to 24 months, depending on the preferred design. Since Rosemary Pool will no longer be able to operate after 2016, time is of the essence to begin this process and continue to move it forward.
The Rosemary site has its challenges, particularly an uneven terrain, but its central location is a strong asset and residents have been vocal in their support of rebuilding at this bucolic setting. The Park and Recreation Commission, working with Weston & Sampson, has proposed a seasonal recreational pool which is no less than 16,000 square feet (compared to 21,000 square feet now). The concept includes renovating the restroom and changing facilities, improving the walking trails, adding community space on the upper floor of the bathhouse, increasing parking spaces and mitigating drainage issues on the site.
CCN is hopeful that the design phase will bring creative ideas to the table to address other important needs, such as year-round and competitive swimming. To that end, CCN commissioned a privately funded study to contribute to the design concepts already being considered. Conducted by Counsilman-Hunsaker, an aquatics consulting firm, this study yielded an alternative two-pool concept, which would increase both competitive as well as recreational use and create the opportunity to cover one pool for year round swimming.
Finding the right size and right design for the Needham community is essential. This project will not be inexpensive - original estimates targeted an $8-12 million range (more accurate estimates will be given as part of the design phase). Despite the costs, Town Meeting showed broad support for this valued resource. The potential is great to make Rosemary more than a seasonal pool, but a year-round destination for residents to gather for recreation, community engagement and social connections.
New Pool, So Cool!
CCN appreciates all of your support this past year in ensuring the scope of the Rosemary Pool project includes more elements of a Community Center in its plan. The results of the feasibility study did not determine where the pool should be located on the property – in the lake or out of the lake. The P&R board voted that the decision about location be determined after further study in the design phase. Funds for the next Design Phase will be requested at the May 2015 Town Meeting. Please stay tuned!
---
Feasibility Study Results Presented
Thank you to everyone who attended the Park & Rec meeting at Powers Hall on December 9th. The four options discussed at the meeting were:
Decommission Pool
Minor Renovation
Major Renovation
Full Replacement
Many residents spoke up to express their dreams for Rosemary including Ken Keyes; "Why would Needham shortchange itself and go for anything less than an option that will serve us for the next 40 to 50 years, just as the current Rosemary Pool has served us for the past several decades? Anything less would be shortsighted."
The feasibility study Final Report by Weston & Sampson can be found at:
http://www.needhamma.gov/index.aspx?nid=3604
---
Be Informed, Ask Questions. Casual Gathering Planned:
The feasibility study is complete. Four options were presented. There are still many questions to be answered. The Park and Recreation Commission is leading the discussion and will be deciding on next steps for this project over the next couple of months. All of their meetings are open to the public and are held on the 2nd and 4th Mondays of the month. Please consider attending these meetings to voice your opinion. For more information go to the Park and Recreation website, most meetings are held at 7 pm @ 500 Dedham Ave., the PSAB building.
Survey Results Are In!
During the last four months of 2013, the Community Center of Needham (CCN) surveyed its supporters and interested residents about their pool and lake use. Consisting of 23 questions, the document asked respondents about everything from general pool and lake usage to specific aspects of Rosemary pool. Individuals, parents, athletes, community leaders, seniors and young people were among the 657 respondents.
Highlights include:
97% of respondents believe that Needham should offer outdoor swimming
81% think Needham should offer year-round swimming
54% rated Rosemary's cleanliness as "poor" or "very poor"
97% rated the central location of Rosemary as "good" or "excellent"
---

For three years CCN has been working to raise interest in improving community recreational facilities in Needham.
Our three priorities reflect the needs expressed to us by you, our fellow residents, Town leaders, civic and business partners: (1) create a year-round swimming facility, (2) create a safe gathering place for youth, (3) increase community-wide recreational opportunities.

So now, where to start? Rosemary Pool is 30 years beyond its intended lifespan and attached to a lake, making it difficult to maintain. This leaves Needham residents, young, old and in between looking for other options that are better suited to meet their needs.
In 2001, Needham allocated money to study the feasibility of a new pool at the site, but only now when the community has shown a strong interest, is this study taking place. With the alignment of these events, CCN has made a new pool its top priority.
Please join our 'Pool First' campaign by signing our petition and "liking" our facebook page.
Let's shout it out … Needham is ready for a new pool!
---
Residents Fill Town Hall to Discuss Pool Options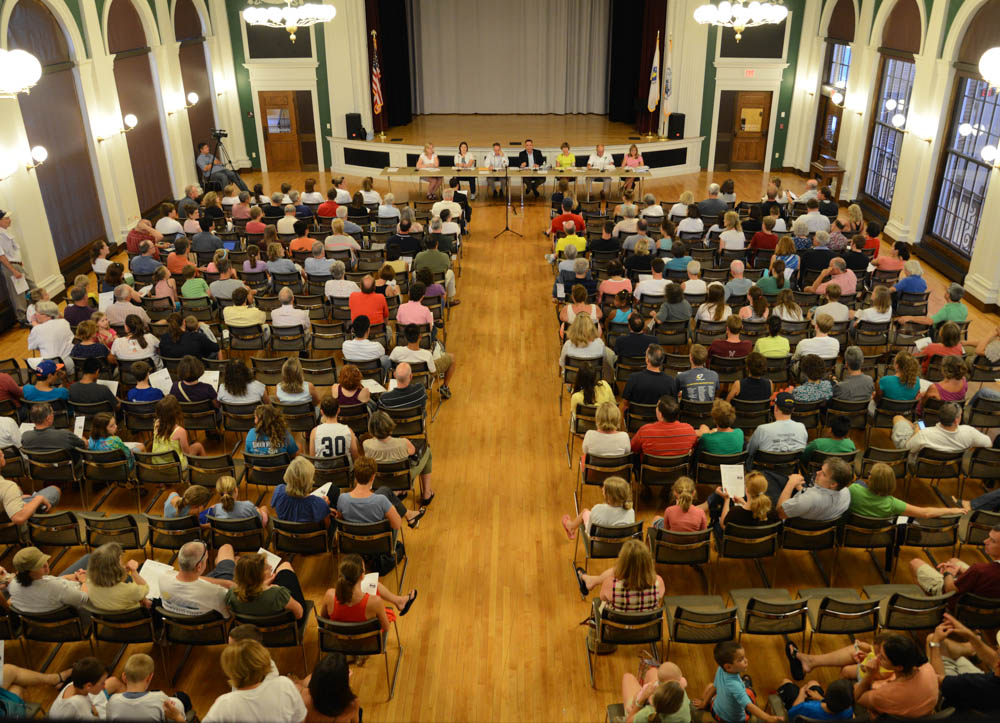 It was standing room only as residents turned out last night at the Park and Rec Commission's "Blue Sky" meeting to discuss the future of Rosemary Pool. Residents of all ages lined up to share their memories of Rosemary and give their visions of what a future site could be. Commissioners sat patiently while person after person went up to the microphone and spoke about all aspects of Rosemary Pool and Lake. One thing was clear--Needhamites have a passion for swimming at many levels. What they do not have, and desperately need, is appropriate facilities to accommodate the requirements of all the groups who spoke out last night. They include master swimmers, competitive swimmers, divers, scuba divers and recreational swimmers. People spoke out who want an indoor pool, an outdoor pool, or both-including a pool with a retractable bubble roof. Some wanted a pool in a lake, a pool separate from the lake or the lake alone. Still others were focused on the area surrounding the pool and lake and what it could become. What most speakers agreed upon is that Needham has a great asset in Rosemary and there is room for improvement.
There was energy in the room surrounding fundraising, a public-private partnership and community collaboration. One person joked that the commissioners' jobs had been made easier since one of the four options had been eliminated--the one to decommission the pool and not offer a public swimming facility to residents is clearly no longer viable.
The commissioners indicated that they would take the enormous volume of comments from the evening, categorize them and share them with everyone in a public format.
While we await that, the Community Center of Needham would like to thank all of our supporters who attended the meeting tonight. The turnout was fantastic and the meeting was a significant step on the road to CCN's first priority-a new pool!
Our Vision for a New Pool

A year-round swimming facility that is accessible and affordable to all residents
A pool that will encourage residents to "Swim Needham" and offer an alternative to the expensive private pool memberships offered in neighboring towns
A facility suitable for our school and town's swim teams so they do not have to practice and compete out of town
A facility where residents of all ages can learn to swim and enjoy recreational and refreshing water fun
A year-round gathering place for members of our community

It's time to create new Swimming facilities in Town

..given a set of potential problems with the facility, the pool's long-term future is uncertain.

Read more...

Letter Responses